The "Digital Twin":
Online visits as real as if you were there!
Whether for hotels, museums, showrooms, event locations or industry:
Our novel virtual 3D tours present your property in a whole new way,
and present unique aspects and special features in the best light.
With our virtual 3D tours, you can explore every corner of a room step by step – as real as if you were there!
An evolution of old 360° tours that's far more immersive, the visitor gets a real sense of space.
This is what makes our 3D tours so unique, so interesting and, most importantly, so real!
Interactive points can be integrated into the room (text, images, videos, audio, weblinks, …).
Which bring the tour to life and turn it into a digital marketing tool.
With our 3D tours, your customers see in advance what to expect
A 3D Virtual Tour increases bookings by providing an immersive pre-visit experience. A study by Matterport shows that establishments that offer a virtual 3D tour receive 95 per cent more calls and 65 per cent more email enquiries from customers interested in booking.
Not only for hotels: a showroom is open 24h, 7 days, museums can offer online tours or companies can show production to far-away customers this way. There are no limits to the possibilities!
Some functions and special features
Already from 5€ per m2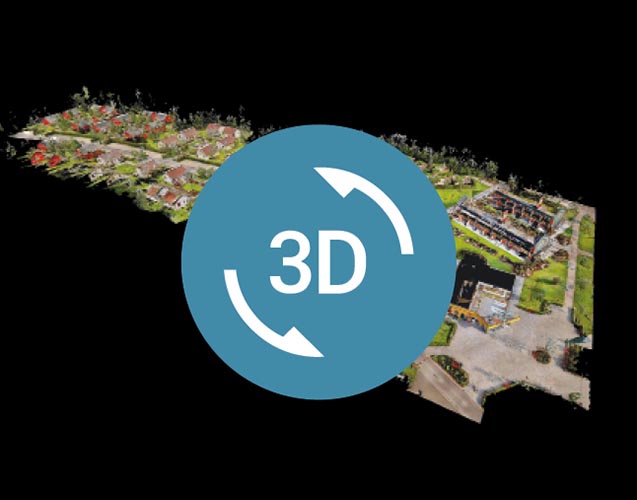 Get a photorealistic and fully interactive 3D overview of the object: the so-called "doll's house".
This model is freely rotatable and each room can be reached directly with just one click.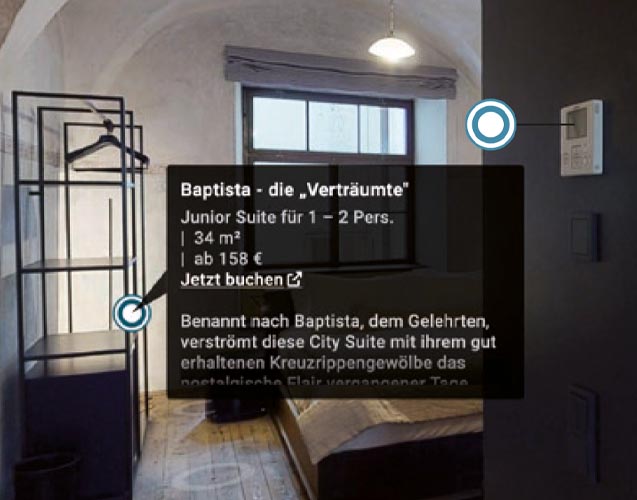 Interactive infopoints turn the tour into a digital marketing tool!
Texts, links, photos, videos or HTML provide visitors with additional information about your property.
Multilingual and Responsive
Our software offers a wide range of functions: multilingualism, password protection, logo, music, statistics, among others also a content management system.
Everything is user-friendly and of course 100% responsive.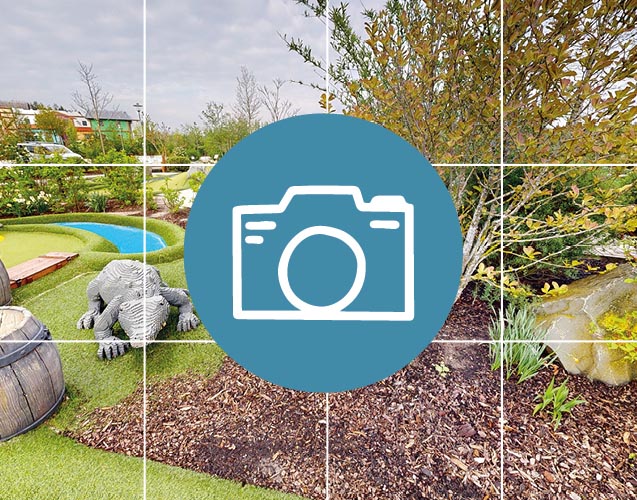 With the snapshot function, every angle can be exported as a high-resolution photo.
With a resolution of 4K or 300 DPI, they are suitable for printing.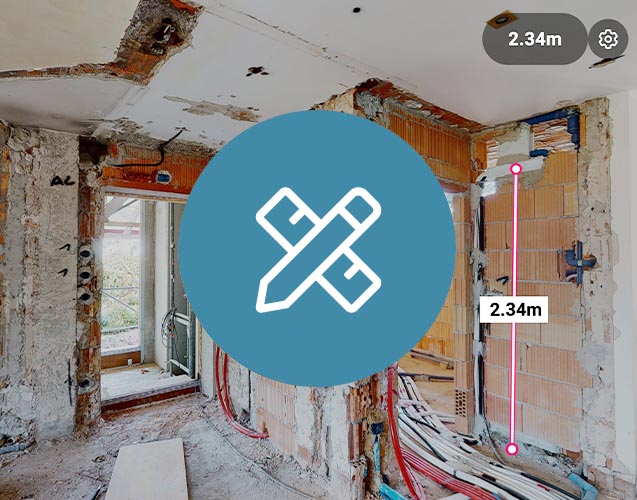 Even simple measurements can be taken in our Digital Twin. The digital measuring tape makes it possible.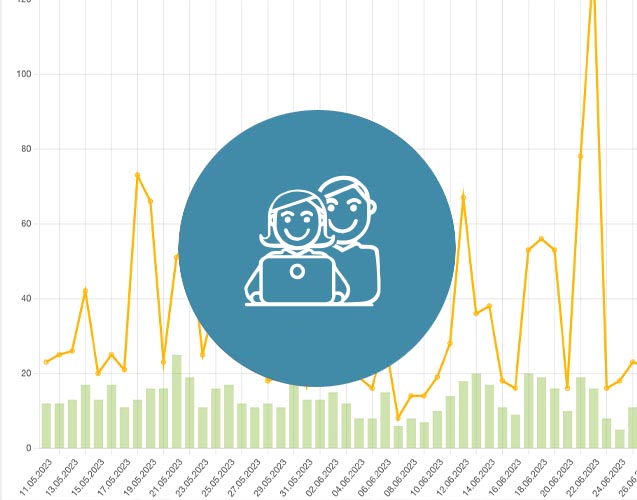 Google loves content, especially content that helps internet users spend more time on your website.
The time spent on the website increases 5-fold with virtual tours. (Source: GFK)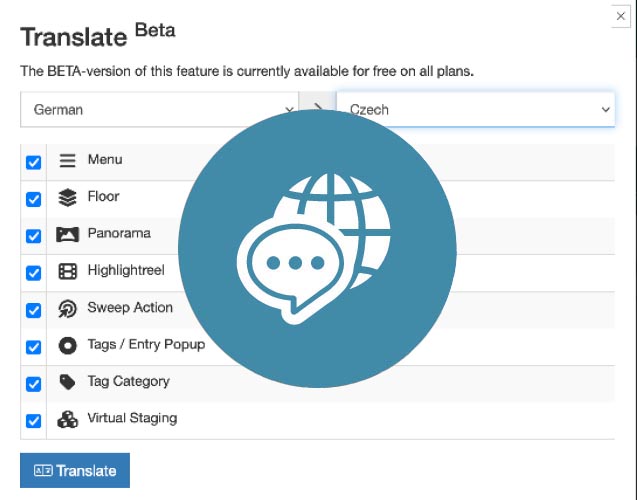 With just two clicks, the tour can be translated into any other language in our software.
AI makes it possible!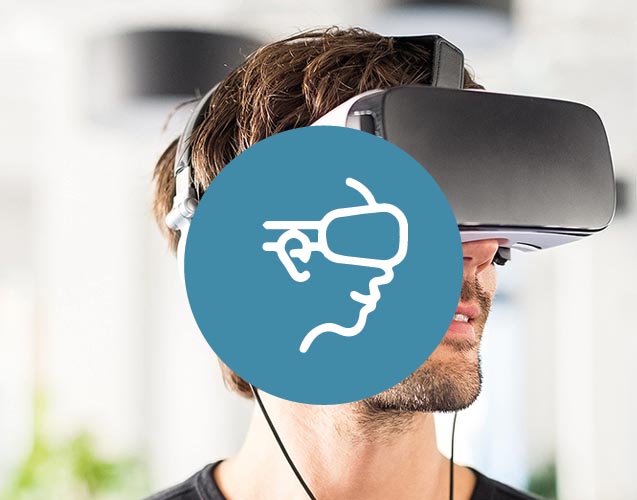 3D tours in virtual reality
Our 3D tours are suitable for all devices: computer, smartphone or tablet.
For an even more intense spatial experience, your 3D model can also be experienced with VR glasses.
Hotel & Gastronomy
Show your future guests the highlights of your hotel and guide them directly to their room or flat. With a virtual tour, no questions remain unanswered!
Culture & Museum
Whether for documentation, as a foretaste for the curious or in didactics: a virtual tour fascinates young & old, makes culture a virtual experience and attracts future visitors.
Industry & Private sector
Digitise your showroom, create your virtual portfolio to inspire future customers or give them an insight into your production.
This creates trust and ensures transparency!
Event- & Film locations
Present the uniqueness of your location, regardless of time and distance. Event planners can even take measurements inside the tour. That's so helpful for them!
Architecture
Whether recording old building fabric, documenting or recording new objects - use the advantages of 3D recording technology!
to give you an impression
"Competent and efficient! We thank you for the very good cooperation
and enjoy on our virtual 3D tour of the Hofburg, which encourages people to visit the museum."
"The cooperation with Visim was very pleasant. They are fast, professional and completely responsive to our wishes and needs. We had our own virtual tour in no time. We can only recommend them."
"The Women's Museum has decided to get even closer to those interested. The virtual tour has also made us more independent and now we can offer live guidet virtual tours."
"We work continuously with this company and can only warmly recommend it."